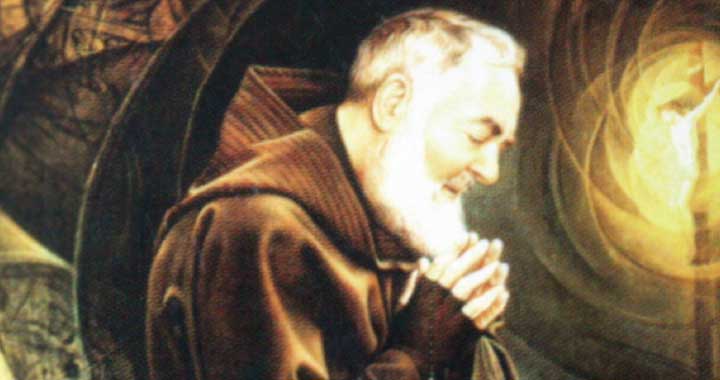 Francesco Forgione – or more widely known as St. Pio

 to the world – was born on May 25, 1887 in the province of Benevento in Pietrelcina, a farming town in the Southern Italian region of Campania, as the fourth of seven children to Grazio Mario Forgione (1860-1946) and Maria Guiseppa De Nunzio (1859-1929). He was baptized the day after he was born in the Sant' Anna Church in Pietrelcina by Father Nicolantonio Orlando, and was named Francesco because of his mother's devotion to St. Francis of Assisi. He was privately tutored until his entry into the Capuchin Friars Minor at the age of 15. With feeble health but a strong will to serve God, he completed the required studies and was ordained a priest in 1910.
On September 20, 1918, the five wounds of our Lord's Passion appeared on his body, making him the first stigmatized priest in the history of the Church. Crowds began to pour into the Capuchin monastery to hear Mass from St. Pio and for him to hear their confession. The Supreme Congregation of the Holy Office imposed restrictions on St. Pio and ordered his removal from the monastery of San Giovanni Rotondo. However, the order was suspended when it provoked great reaction among the citizens of the town, who rose up to prevent St. Pio from being taken from them. St. Pio, on the other hand, continued his life of prayer and intense fulfillment of his apostolic ministry, through confession and perfect obedience to his superiors and the ecclesiastical hierarchy. Worn out by over half a century of intense suffering and constant apostolic activity, his health grew worse.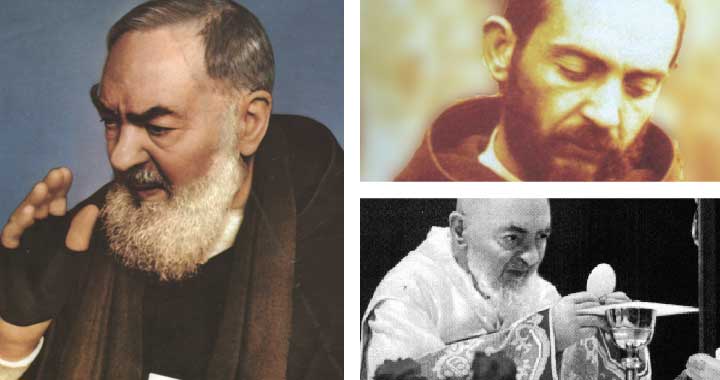 On September 23, 1968 shortly after making the sacrament of confession, renewing of religious vows and receiving the sacrament of extreme unction to Padre Pellegrino, St. Pio died in holiness with the names of "Jesus, Mary" on his lips.
The Diocesan process for St. Pio's canonization began on March 20, 1983 and was closed on January 21, 1990. Padre Pio was beatified by Pope John Paul II on May 2, 1999, after the miraculous healing of Mrs. Consiglia De Martino of Salerno, Italy, the needed miracle for the beatification, was approved by the Congregation for the Cause of Saints. On December 18, 2000, the miraculous healing of 7-year old Matteo Collela of San Giovanni Rotondo, Italy, the needed miracle for canonization, was approved by the Congregation for the Cause of Saints.
Blessed Padre Pio was declared a saint by Pope John Paul II on June 16, 2002.